CAYBERRY PUPPIES
Our Newest Puppy Boy
Cayberry's Beewitched, Bothered and Beewildered
"JOEY"
Blaze x Bree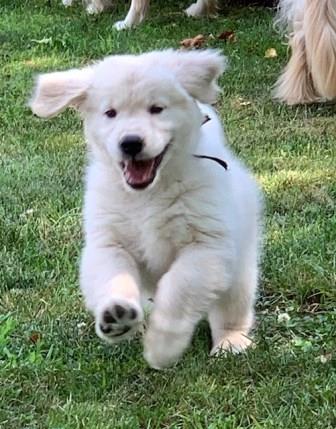 *****************************************************
Note: If I am not planning an imminent breeding, it may take me a week or two to get back to you .... but you should feel free to write again if you don't hear within a week. My email address for puppy inquiries:
Caseyberry@aol.com
Pet Homes ... Please note:
Our puppies are active, energetic, and curious. They require exercise off leash in a large fenced-in area, and obedience training during their first year or so in their new homes. If you are hoping for a laid back, mellow adult who will enjoy being a house dog, contentedly hanging out at home, then our puppies are not for you. They do best in active homes where they are often taken out and about to engage in activities with their families.
***************************

Tia's second litter (sire, Ripley). Four boys and one little princess, all now in their wonderful new homes.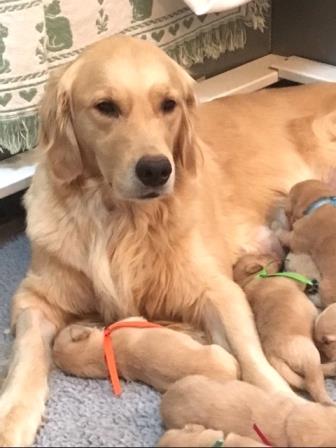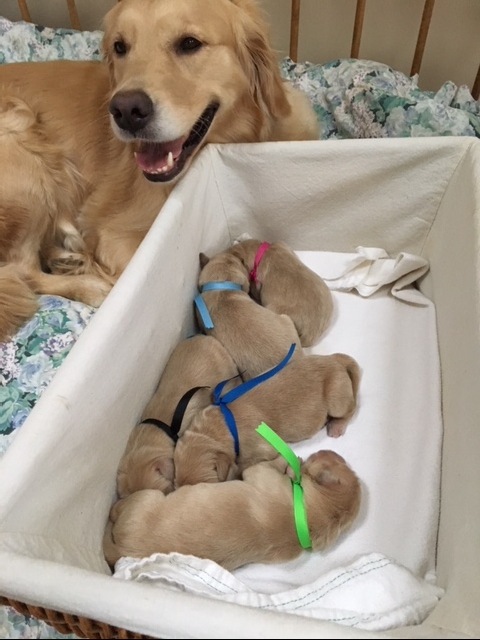 Ripley x Tiamo
CT MACH Mirasol Rip Van Periwinkle CDX MXB MJB NF x Cayberry's I Choose Love
Before committing to a Golden Retriever puppy, please consider first if a golden retriever is the right breed for you and your family. If this will be your first golden retriever puppy, or your first in several years, please read the information provided by our parent club, The Golden Retriever Club of America:
**************************
Our "Tweets" litter .. whelped April 18, 2016
Twelve pups ... seven girls, five boys
Ripley x Tiamo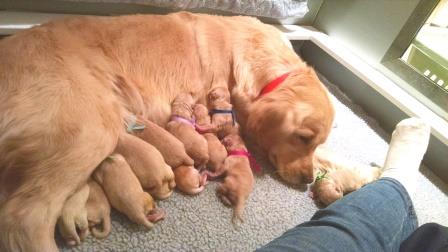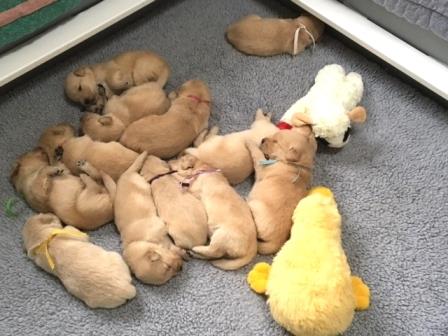 This is Bree from the Tweets Litter, napping with her grandma Moxie!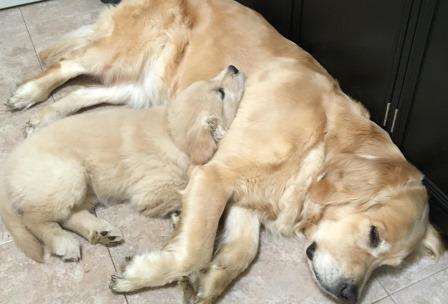 This is Bree as she began her training for the Newtown-Strong Therapy Dogs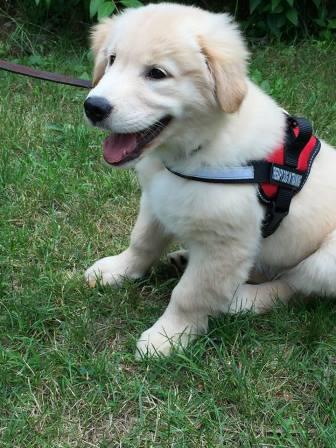 Some More Tweets: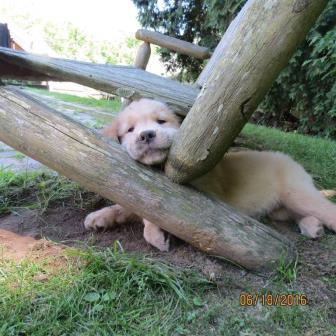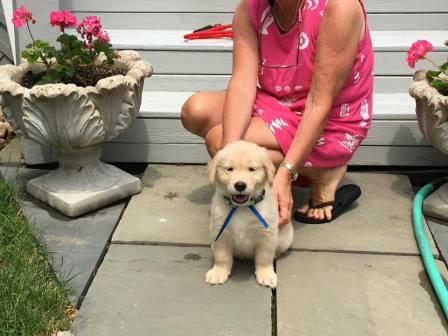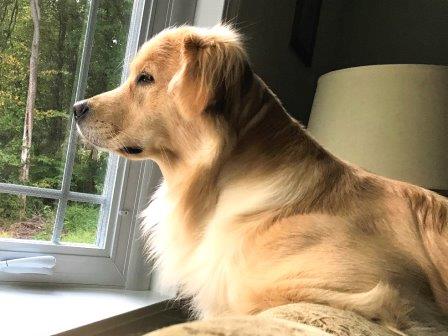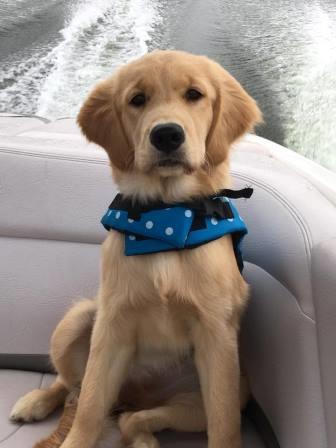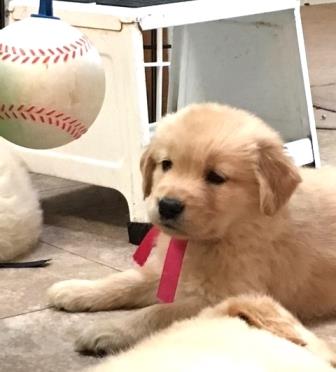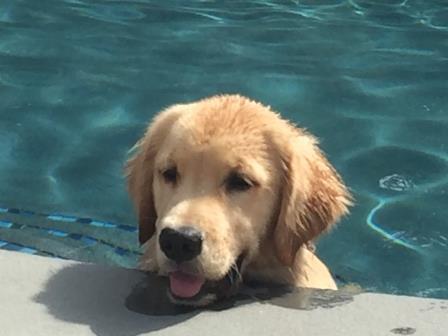 Some of our puppies from past litters: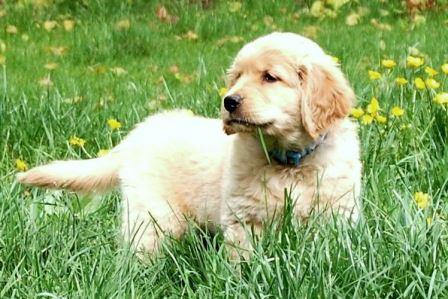 This is Eli, a Tagg x Libby puppy
Moxie Puppy, Miss Raspberry (Presley) Going Home Day

| | |
| --- | --- |
| Moxie Puppy, Mr. Royal Blue (Jack) | |

| | |
| --- | --- |
| Below are Moxie puppies Brandi and Jack | |




Below is Moxie Puppy Scout, who was Mr. Lime, with his "girls" ...

More puppies ....

Twist from the Storm Litter, Cayberry's Martini With A Twister

Baker, from the Tweets Litter

Winston, from the Ciao Litter, meets chicken!

Ripley x Tia #2

Bree, from the Tweets Litter (Ripley x Tia)

Oliver from the Smile Litter (Tagg x Libby)

Puppy Avalanche (Libby Puppies):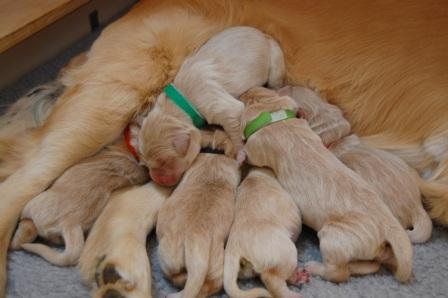 Libby and her brand new pups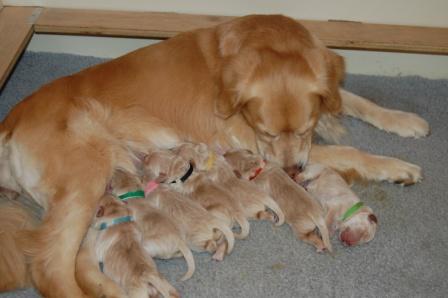 Libby Puppies below at 3-1/2 weeks old, outside of the
whelping box for the first time, and
gathering together on the way out.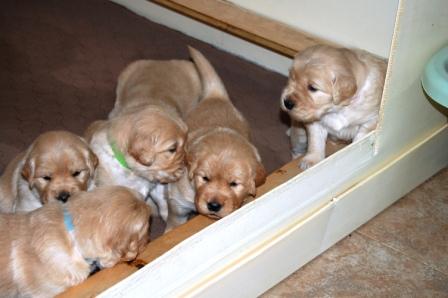 Here below is a precious moment
between Libby and her little
Miss Pink puppy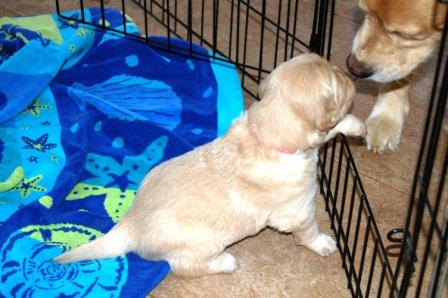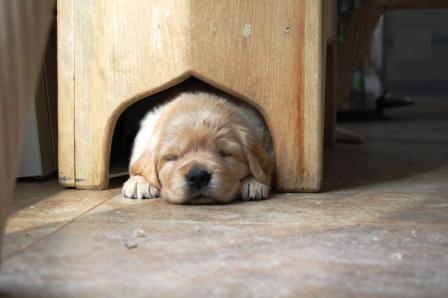 It's exhausting, being a puppy! Miss Yellow, four weeks
| | |
| --- | --- |
| | |
| LIME BOY | |
| | |
| --- | --- |
| | |
| Miss Yellow | |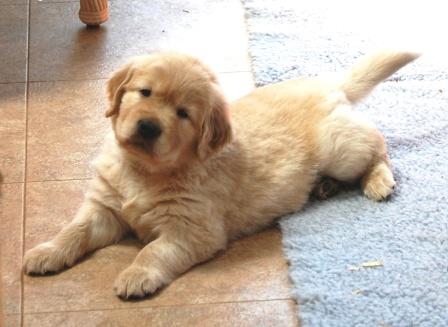 **************************************
Below are Libby and Tagg's first litter at 7-1/2 weeks old, on our last day all together.
First Tagg x Libby Litter, whelped January 2010 ... because we had all girls, our litter theme was the "chicks" -- and here are Pink, Yellow and Green, at 7-1/2 weeks old, as they were getting ready to go to their forever homes: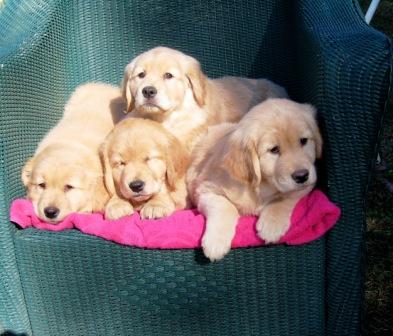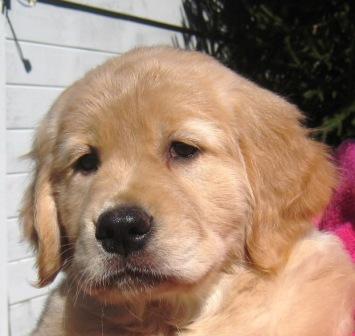 This is Ms. Pink, now known as MOXIE! Because that's exactly what she has. Moxie was my pick, and so she remained here with me. She is quite a handful, smart as a whip, always busy doing something, and brings laughter and fun into our lives every day. Her official name is
Cayberry's Chick of the Litter.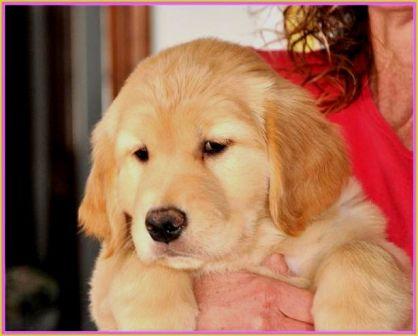 And here is Ms. Yellow, now known as Kaia! Kaia was #2 whelp, quiet and sweet from the get-go, and for the first few weeks I called her Mellow Yellow, until suddenly the MELLOW part disappeared! She lives with, and is simply adored by, Ken and Dana Nelson and their two Golden boys, Napa and Jamaica, out in the Chicago area. Kaia is doing amazing things in her new home, and has become an outstanding agility dog. Kaia's official name is
Cayberry Chick'et To Adventure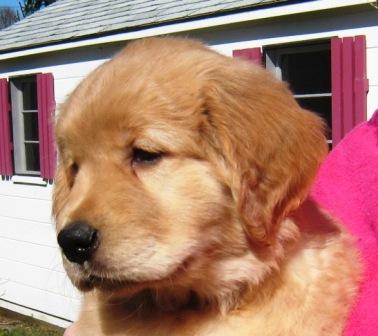 And here is Ms. Green, who always stunned everyone with her beautiful head and expression.
This is our Foundation Pedigree
Pedigree