Quinleighblu 3 Rivers Steeler PCD CD RAE1
(11/14/2006 - 4/20/2014)
Beautiful, talented, sweet Steeler ... he was Tagg's very first son, bred by Helen Lackey, Quinleighblu Goldens of Kitchener, Ontario and owned, trained and loved beyond words by her daughter, Frances. Steeler was the light of Frances' life ... her everything dog. Sadly, at just seven years old, what turned out to be a rodent poison believed to be from a neighbor's property found its way to Steeler via a river, and by the time symptoms set in and were recognized, it was too late to save this precious boy.
One of Frances' last "braggin" notes to me below, which I still treasure, accompanied by Steeler's water retrieve photo ... you can feel the absolute love shine through in Frances' words.
"Steeler doing a water retrieve, PCD, CD, RN, RA, RE and RAE1; yep I am certainly proud of my Tagg son ...
. Working on his CDX this year, and his RAE2. He was the #4 Rally golden across Canada in 2011."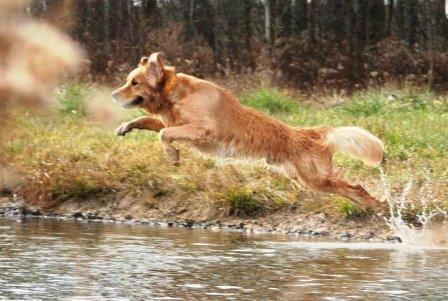 Steeler was from my very first grandpuppy litter, and through him, Helen, Frances and I became good friends, as so often happens in this awesome dog world of ours. I am and always will be so proud of Helen and Frances and so honored to know them ... if ever there was a breeder whose love of dogs shone through in each and every word, it is Helen and her daughter, Frances.
Godspeed Steeler ... we miss you and we love you. But we know you are happy where you are right now, and that you are holding a whole bunch of spots for us up there.