About Us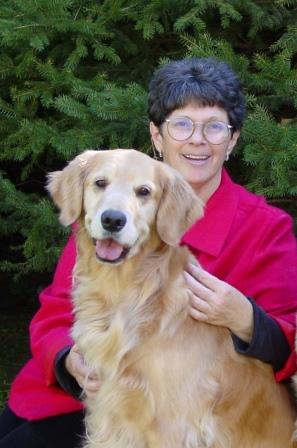 I began my journey into the wonderful world of Golden Retrievers in late 1995 with my first Golden, Westmont's Casey Berry, CGC, Delta Pet Partner.
Casey introduced me to therapy dog work and AKC competition obedience and shortly thereafter, with the arrival of Abby (Westmont's Abigail Ann CGC, Delta Pet Partner), I discovered the addictive world of Agility, which soon became our main sport.
The advent of the public use of our kennel name (Cayberry), and my foray into the show dog world began in the year 2000, with the arrival of Kenzie, pictured above (Golly G Cayberry's Up At Bat RN, OA, NAJ). Besides introducing me to the world of AKC Conformation, Kenzie completed the circle of my Golden Retriever education by introducing me to Field and Tracking as well . . . she was truly my everything dog.
So it is that today, in addition to showing in Conformation, my dogs and I train in Rally, Agility,Tracking and Obedience.
I belong to the Golden Retriever Club of America and am on the Board of Directors of the Hudson Valley Golden Retriever Club. I am also a member of two local obedience training clubs, as well as a member in good standing of the Association of Pet Dog Trainers. In addition to training and competing with my own dogs, I also offer training for family pet dogs by providing classes in puppy kindergarten, beginners I and II, foundation training, and therapy dog training. In addition, I am an evaluator and trainer for The Bright & Beautiful Therapy Dogs, Inc., as well as Director of the Newtown-Strong Therapy Dogs in Newtown, CT.
In my breeding program, I am highly committed to maintaining the integrity of this incredible breed, and to raising, training and breeding multi-purpose Golden Retrievers who are sound of mind and body, confident, and talented, and who possess that wonderful Golden temperament that is the hallmark of our breed.
Ann Marie Cioffi, MA, Psy
********
Please take a moment and watch
this wonderful little video that
takes you for a short ride into the life
of a responsible breeder.
*********